NEW Kūmarahou + Cocoa Butter Facial Cleansing Bar
Regular price

Sale price

$25.00
Simple returns, see below.
DESCRIPTION

Our hydrating new milk Kūmarahou + Cocoa Butter Facial Cleansing Bar is here!

Made with soothing native Kūmarahou and Kawakawa, both long used for skin conditions here in Aotearoa, it's pH balanced, gentle, and creates a creamy cleansing milk to effectively cleanse while being kind to your skin.

Perfect for summer travels, it's packaged in a special launch travel tin.

What makes it different?

Soothing and pH balanced - with a pH of 5.5, which matches that of the skin, it's designed to be gentle and non-stripping and won't leave your skin with that squeaky clean feeling common with soap and high-foam bars.

Gentle and and soap-free - our beauty bar is made with a combination of gentle cleansing agents and an innovative secondary cleaner that is powerfully effective while being extremely gentle.

Hydrating, moisturising natural butters - cocoa butter and shea butter impart skin feel, smoothness and moisturising properties. The high palmitic acid in cocoa butter helps create a creamy, milky lather.

Skin-calming oils - led by macadamia oil which is light yet extremely rich in palmitic acid and known for its anti-inflammatory effects, while infused kūmarahou & Kawakawa oils provide the skin-calming effects we know so well.

Vegan and plant-based - vegan carnauba and candellila waxes add firmness, longevity and stability to our beauty bar.

Upwards of 80 washes per bar - each bar will last from 2-3 months, depending on how often it is used and provided it is stored dry between uses.

Lightly fragranced with a natural vanilla fragrance.
DIRECTIONS FOR USE

Your Kūmarahou + Cocoa Butter Facial Cleansing Bar is made with vegan waxes, ensuring a firm texture to help it last as long as possible.

To use, wet the bar well with warm water (especially the first few times you use it) and rub to create a creamy cleansing milk. Apply to face and massage gently. Rinse with warm water and remove excess with the Frankie Facecloth.

Follow with the Bakuchiol Rejuvenate Serum, Kakadu C Replenishing Facial Oil, or your regular moisturising product.

Ensure your bar is stored on a well-draining soap dish away from water between uses.
SUITABLE FOR

All skin types, including mature and sensitive skin.

The Kūmarahou + Cocoa Butter Facial Cleansing Bar is suitable for sensitive skin due to gentle cleansing agents, anti-inflammatory oils including infused Kūmarahou + Kawakawa Oils and a hydrating blend of natural butters.

As with any new product in your routine, always patch test for 24hrs before use.
INGREDIENTS

Macadamia Ternifolia Seed Oil, Sodium Cocoyl Isethionate,
Cetyl Alcohol, Disodium Cocoyl Glutamate (and) Sodium Cocoyl Glutamate, Prunus Amygdalus Dulcis Oil (and) Macropiper Excelsum Leaf Extract (and) Pomaderris Kumarahou (Kumerahou) Leaf Extract, Stearic Acid, Sorbitan Olivate, Copernicia Cerifera (Carnauba) Wax, Euphorbia Cerifera (Candelilla) Wax, Tapioca Starch, Theobroma Cacao (Cocoa) Seed Butter, Butyrospermum Parkii (Shea) Butter, Vitamin E (sunflower), Fragrance (Natural).
BOTANICAL ACTIVES

Macadamia, Kūmarahou, Kawakawa.
SHIPPING & SIMPLE RETURNS

Free Shipping

Orders over $85 delivered free in NZ (Saturday delivery is additional), standard shipping is $6.50.

International orders

You can use the Shipping Estimator on the cart page, or view the rate before you complete checkout.

Refunds and returns

If you change your mind, simply return unopened, unused product for a full refund. In the very unlikely event of a negative reaction, get in touch to share your experience and discuss returning the product to us for a refund. If you have been using steroid cream, skin can be more sensitive and you will need to wean into use gradually. Need help? Get in touch for a chat.

Our Returns information is here.
Share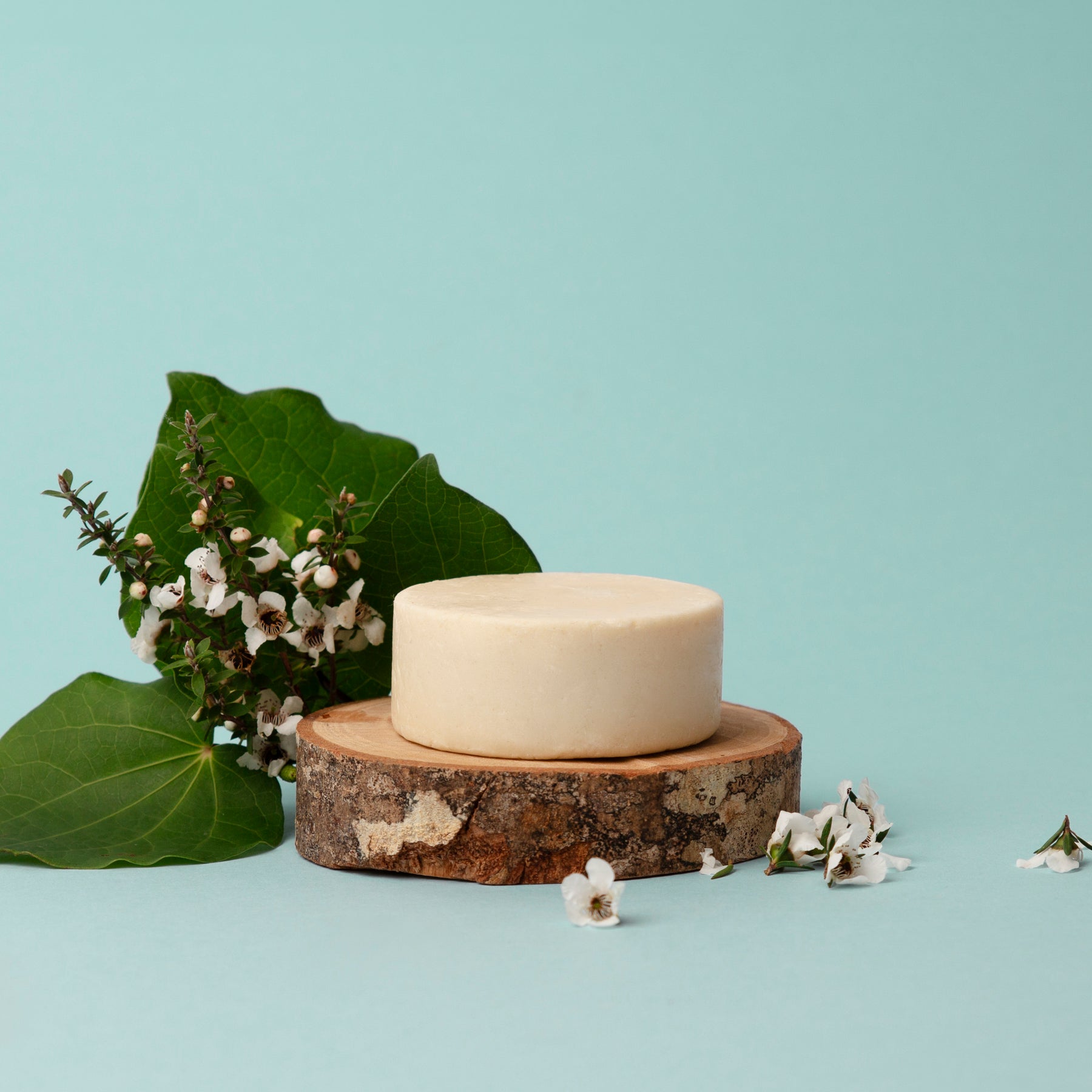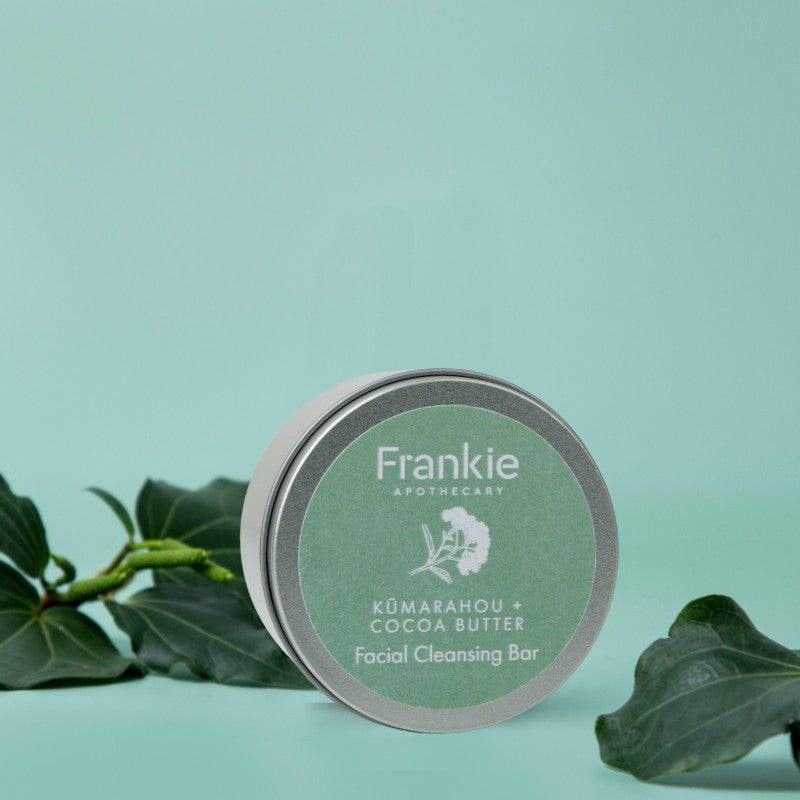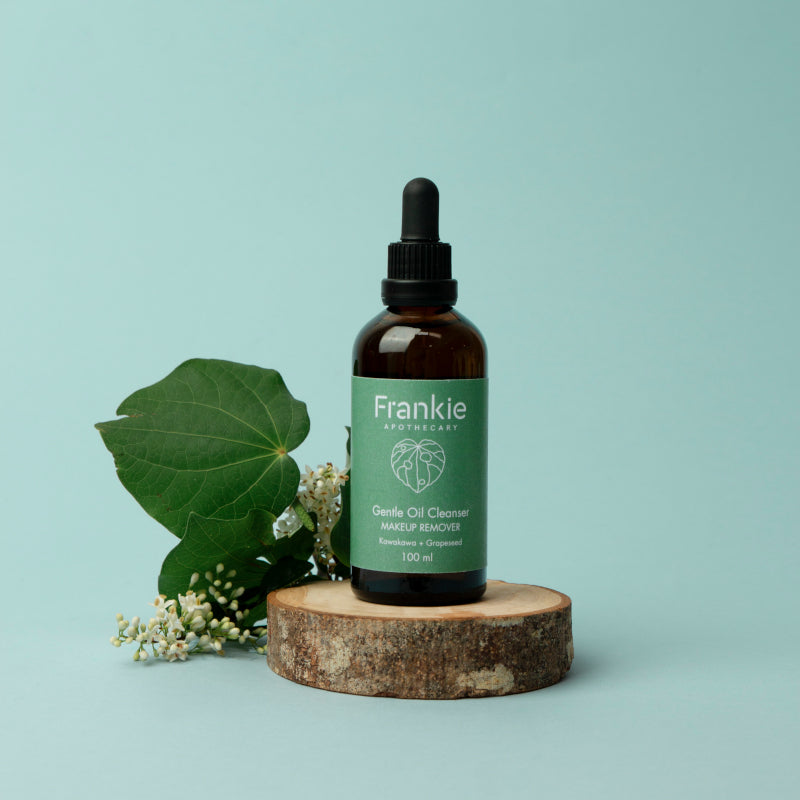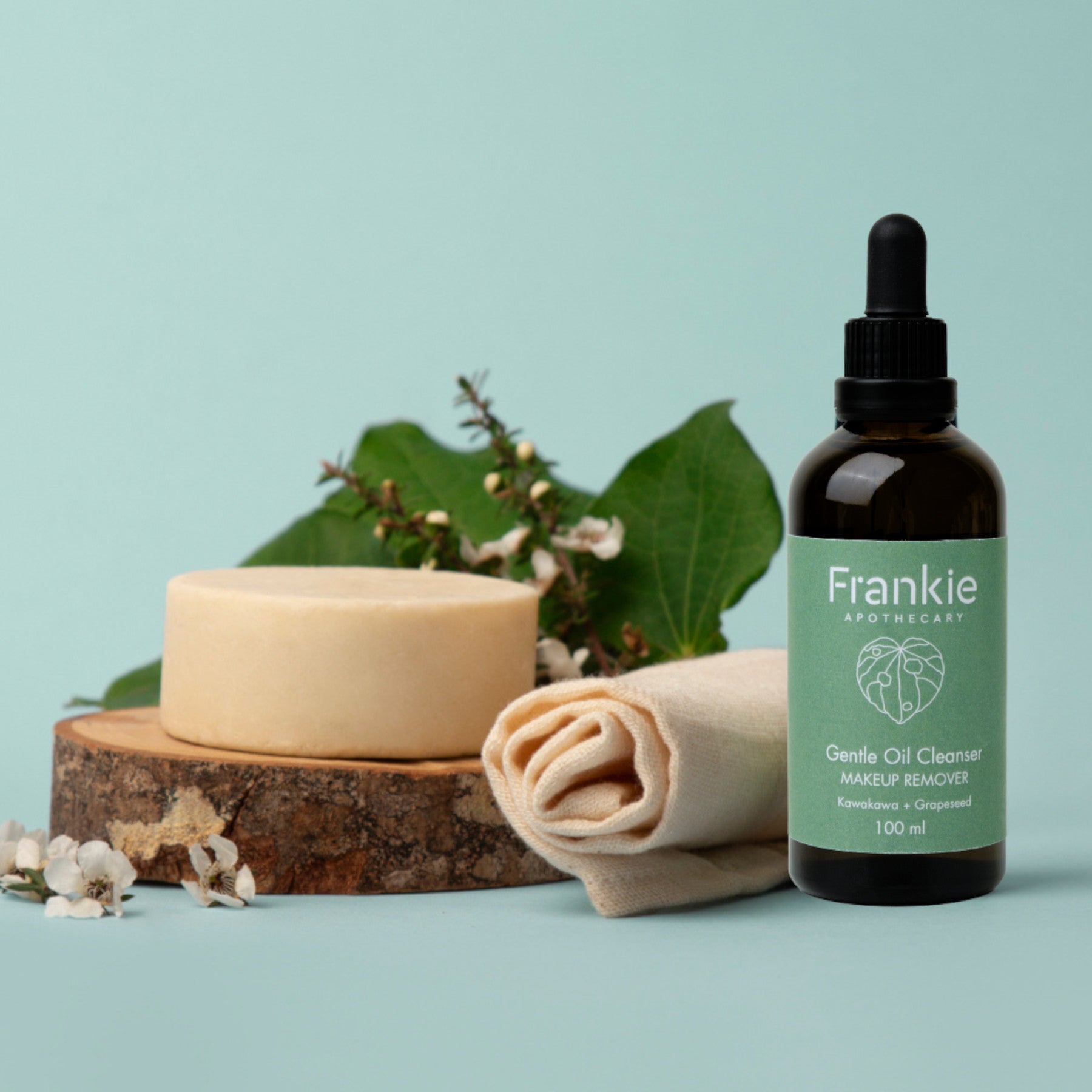 Your Questions Answered
Which cleansing product in the Frankie range is best for me?

Good question. We have several options in the range now and here's a summary of how and when to use them. 

Kūmarahou + Cocoa Butter Facial Cleansing Bar. A gentle cleansing bar for all skin types, including sensitive skin. 

Kawakawa Cleansing Bar with Kawakawa Chlorophyll. This bar offers a deep clean and maximises the anti-inflammatory and anti-microbial properties of Chlorophyll. Excellent for acne-prone or blemish prone skin and sensitive skin. Least hydrating cleanser in the range. 

Gentle Oil Cleanser & Makeup Remover. Effortlessly removes makeup and sunscreen. A gentle cleansing oil free from emulsifiers and soaping agents. Oil cleansing is suitable for all skin types. Most hydrating cleanser in the Frankie range. 

Double-cleansing with the Gentle Oil Cleanser/Makeup Remover and the Kūmarahou + Cocoa Butter Facial Cleansing Bar. This two-step process is for makeup days or to remove sunscreen. First use the oil cleanser to remove makeup by applying to dry skin, massaging and removing the excess with a warm, damp facecloth. Dry skin. Follow with the Kūmarahou + Cocoa Butter Facial Cleansing Bar. 
I have sensitive skin. are the Facial cleansers ok for me?

Yes! All Frankie Apothecary skin care is designed to be gentle on sensitive skin.

The Kūmarahou + Cocoa Butter Facial Cleansing Bar has been formulated to be gentle and kind to your skin. With a pH of 5.5 it works with the skin's natural acid/alkali balance so it won't strip your skin of natural oils.

Our Gentle Oil Cleanser and the Kawakawa Cleansing Bar with Kawakawa Chlorophyll are also gentle and suitable for sensitive skin.

As with any new product, always patch test for 24 hours before use.
I have acne-prone skin what should I use?

You have a couple of great options!

We've had feedback from customers with acne-prone skin who have found the Kawakawa Cleansing Bar with Kawakawa Chlorophyll helpful. This bar offers a deep cleansing action for face and body and is suited to sensitive skin. Interestingly, chlorophyll has been shown to have anti-bacterial and anti-microbial properties.

Our Gentle Oil Cleanser is also a good option for those with acne. Oil cleansing has been used for centuries and works on the basis that like attracts like with the oil cleanser dissolving oil in the skin and impurities, helping to flush the skin.

Oil cleansing is popular amongst many people with acne-prone skin. It's always a good idea to patch test first for 24 hours. 

Keep in mind, oil cleansing is quite different from regular cleansers and will help dissolve trapped sebum in the skin. This can cause an initial 'purge' period as clogged pores are cleared and debris is released. This can mean skin gets worse before getting better and this period can last from 2 to 4 days, up to a couple of weeks. This is a normal sign that your skin is restoring its balance. 

If you have any questions, just get in touch with us by email or via our chat - we're happy to help any way we can.
Is your Facial Cleansing Range vegan?

Yes, all our cleansers are vegan - Kūmarahou + Cocoa Butter Facial Cleansing Bar, Gentle Oil Cleanser/Makeup Remover and Kawakawa Cleansing Bar with Kawakawa Chlorophyll.