Eczema Help & Advice
Tips on natural eczema treatment & why Kawakawa helps eczema
NZ Native Kawakawa has been used medicinally for centuries. The Kawakawa shrub (Macropiper excelsum) is a distinctive native New Zealand plants with aromatic heart-shaped leaves. It is one of the most important and widely used plants in Rongoā Māori (traditional Māori herbal medicine), and is still widely used as a topical treatment for eczema and dry, irritated skin today.
See the super stars of our eczema care range here.
Is Kawakawa's healing power natural magic, scientific fact or traditional rongoá?
The wonderful healing properties of native Kawakawa have been used in traditional rongoá remedies for centuries, as it was obvious to Máori that Kawakawa contained very special healing actives.
Kawakawa has been used to care for eczema and sensitive, dry and irritated skin by Máori healers for generation upon generation and there is no doubt that for those suffering from eczema, psoriasis, rashes or dermatitis, Kawakawa Balm can soothe or resolve the symptoms, and provide lasting relief.
As well as being an effective skin remedy, Kawakawa leaves can be chewed or made into a tea infusion to treat gastrointestinal stomach ailments, high cholesterol bladder problems, to balance blood sugar and blood pressure, and reduce the pain of tooth aches. In rongoá, Kawakawa was also used for bronchitis, rheumatism, bad bruising, burns, stings and insect bites, sunburn and dry, generally irritated skin. 
The distinctive leaves of Kawakawa (Macropier excelsum) meant it was easily recognised by Máori as a relative of the famous Pacific Kava plant (Piper methysticum) when they arrived in New Zealand; and as you would expect, Kawakawa shares some of the medicinal properties of Kava - although not the mild narcotic effect!
Scientists agree - Kawakawa has amazing medicinal properties
With laboratory testing scientists have demonstrated that Kawakawa has a number of wonderful botanical actives.
Myristicin, an analgesic 'pain-blocking' substance related to the antiseptic eugenol:
"Myristicin is an anticholinergic agent meaning it blocks certain nerve impulses."
Myristicin also has anti-inflammatory, anti-microbial, and antioxidant properties.
Lignins which are useful in cosmetic and topical skin treatments:
"Kawakawa leaves also contain a series of lignans which act as powerful antioxidants in the presence of oil (such as Kawakawa oil), which act as free radical scavengers, and boost skin cell health dramatically."
Antimicrobial and analgesic properties useful for reducing inflammation caused by skin conditions such as psoriasis, eczema and rashes:
"Kawakawa extract has been shown to have anti-inflammatory activity."
Diayangambin which has anti-inflammatory and immuno-suppressant effects, which means it can help with anti-immune disorders like rheumatism and psoriasis.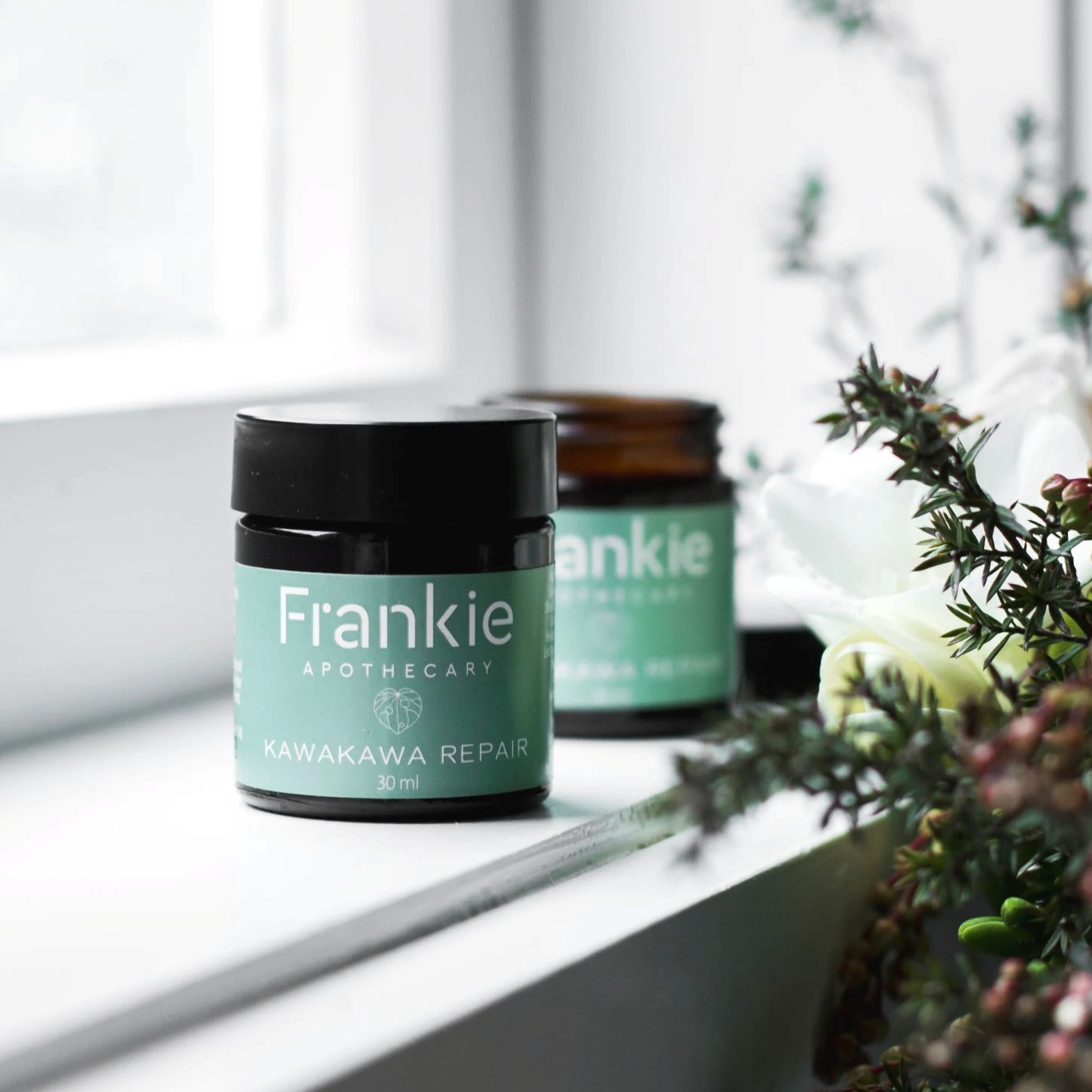 Why does our Kawakawa Balm help eczema, psoriasis & dermatitis?
The Kawakawa leaves and stems are packed full of chemical actives that have numerous medicinal and healing properties.
Chemically, Kawakawa contains analgesic 'pain-blocker' and anti-inflammatory, anti-microbial, antioxidant myrsticin, eugenol which is an antiseptic, and antioxidant lignins. It is rich in iron, magnesium and vitamins.
We preserve the effectiveness of all these natural chemical actives in our Kawakawa extract. To ensure they are not lost quickly in our products like Frankie Kawakawa Balm, an additional antioxidant must be added. We use a rich natural Vitamin E antioxidant as a natural preservative in our Kawakawa Balm.
Read on to find out why these incredible natural Kawakawa actives can help repair eczema-prone skin.
Proud EANZ Supporters
To be eligible to display the EANZ logo products must be created or intended for use by people with eczema or sensitive skin conditions and meet the acceptance standards set by the EANZ.
The presence of the EANZ logo helps people recognise products that are suitable for care of eczema or sensitive skin, and make informed purchase decisions to help manage eczema and sensitive skin.
How does Frankie Kawakawa Balm work to repair eczema damaged skin?
Eczema is an inflammatory response within the body to some internal or external trigger. This is why finding out what's triggering your Eczema flares is so important - see the Eczema Help Information below. However this can take some time and it's crucial to manage your Eczema before it gets out of hand and begins to affect your everyday life.
Once an inflammatory response is triggered, the body reacts by releasing a huge amount of moisture from the skin, which leads to the shredding of the outer skin layers, exposing the inner layers and altering the pH of the skin. This is what causes eczema damaged skin to become itchy, inflamed and raw.
Frankie Kawakawa Repair Balm is an intensive natural moisturiser containing zero water. This means our Kawakawa Balm is strong enough to create a long lasting barrier over the skin, trapping in the moisture that is trying to seep from the skin. This also allows the healing Kawakawa Repair Balm actives enough time to do their job in repairing the itchy, inflamed skin.
You may have tried many eczema creams and seen little difference. This is because the water content in most eczema creams means they are just not strong enough to create a lasting barrier on the skin - and the synthetic chemicals required to preserve conventional eczema creams are usually Eczema triggers in themselves.
We recommend applying Frankie Kawakawa Balm 2-3 times a day to very eczema inflamed skin, and then once a day to help prevent future flare ups of eczema irritation. Always consult your Health Care Professional.
There's more to native Kawakawa than meets the eye
Traditionally in Aotearoa, Kawakawa plays an important role in the spiritual and physical world of Māori, following the life cycle from conception, birth, life and death.
Kawakawa wreaths are worn as a sign of mourning, and used in the powhiri as tangata whenua welcome the manuhiri onto the marae. To conceive, a woman would place a sprig of Kawakawa under her bed before intercourse as a good luck charm. It is used in birth and name ceremonies, to remove tapu at the opening of a meeting house and as a blessing of food and war and a symbol of mourning.
As a key healing plant, Kawakawa was heavily employed in the ancient lore of Rongoā Māori, the traditional Māori healing system where ailments are treated in a holistic manner which encompasses the use of herbs with healing in the mental and spiritual worlds. Aspects of rongoā can be explained as taha wairua (spiritual), taha hinengaro (thoughts and feelings), taha tinana (physical), and taha whanau (family).
In essence rongoā endorses a holistic embrace of all aspects of wellbeing - and Kawakawa plays its part in this healing methodology so beautifully. 
We wild-harvest our organic Kawakawa for our all natural remedies using traditional practises - harvesting certain leaves at certain times of the moon cycle, with karakia; as well as replacing used leaves back into the forest, and whānau (family) are involved in the harvesting process and planting new Kawakawa shrubs to ensure a vigorous and healthy forest.
Kawakawa and many of the other medicinal plants used in the Frankie range are grown sustainably on our Mangawhai, Northland New Zealand farm. Our Kawakawa is a mixture of wild, regenerative and organically grown from seed.  
Explore our range of completely natural, New Zealand made Kawakawa remedies.
If you or someone in your family is struggling through Eczema at the moment, we hope you find this information on the causes of eczema and eczema treatments useful. We've gathered our most helpful tips for Eczema relief to share with you, We hope you find this information useful in your eczema journey. 
1. Please always consult your preferred health professional first and foremost. Visit your Health professional, GP or Naturopath to assess your Eczema. They can help eliminate any infection and arrange for allergy testing.
2. Undertake a food elimination diet to eliminate the presence of a food allergy which could be causing your eczema. We have shared an easy to follow food elimination diet on our blog to help you identify what any food-based causes of your eczema are.
3. Begin applying Frankie Kawakawa Balm to help your Eczema up to 3 times a day. Our natural Kawakawa Balm is designed to soothe itchy inflamed skin and also create a strong barrier against moisture loss and external allergens - this is a crucial step in ensuring your Eczema does not worsen.
4. Try to eliminate all synthetics from the home - washing powders and cleaners, soaps and body washes and shampoos and synthetic fabrics in clothing and bedding. We have shared information about eczema triggers in clothing here.
5. Eliminate all dust and mould in the home, and ventilate your home everyday. Here is an article on eczema help that addresses environmental eczema triggers.
6. Add Frankie Colloidal Oat Soak to the bath every night to help ensure skin is protected at night and itchy free. Always follow with Frankie Kawakawa Repair Balm.
7. Introduce a good probiotic to your diet either in pill, liquid form or by eating a diet rich in pro biotics (yoghurt, kefir, bone broth, fermented foods).
8. Be ready for the seasonal changes that can provoke eczema flare ups. We have written a guide for Eczema in Winter and Eczema in Summer.
If you have any specific questions or would like further support in your Eczema journey, feel free to email us and our team of Naturopaths can point you in the right direction.