Kia ora, I'm Georgina. Along with my husband, Matt, we're the team behind Frankie Apothecary, bringing you gentle, effective skincare products to care for families with sensitive skin and eczema, and those looking for a low-waste, natural products.
Frankie Apothecary's mission is to provide natural and effective skin care products inspired by Rongoā Māori (Māori herbal medicine), to relieve the suffering caused by sensitive skin and eczema and provide a healthy and natural alternative to mainstream skin care products.
In New Zealand, we are lucky to live among so many native plants that harbour many medicinal healing qualities. Every Frankie product is infused with healing native plants foraged for by hand using traditional techniques. This, along with zero unnecessary fillers like water, alcohols, nasty preservatives or chemicals, is the reason why so many families have seen success with their dry and irritated skin. 
Passionate about natural skin care
My interest in natural skincare began, oddly enough, with a visit to a fertility specialist. I was shocked to hear that many of the products I was using on my skin could be disrupting the delicate balance of hormones in my body. I started searching for natural alternatives without added chemicals. I began replacing products laden with parabens, phthalates and many other chemicals, with natural alternatives, many of which worked just as well if not better. Natural skincare has been a passion ever since.
After looking for a way to turn my passion into a lifestyle, I feel blessed that Frankie has become part of my journey.
I love that Frankie Apothecary draws on principles of Rongoā Māori (Māori herbal medicine) and shares the beauty of traditional healing. It's been one of several paths to reconnect with my heritage and has led me on a journey to grow my knowledge of Rongoā Māori.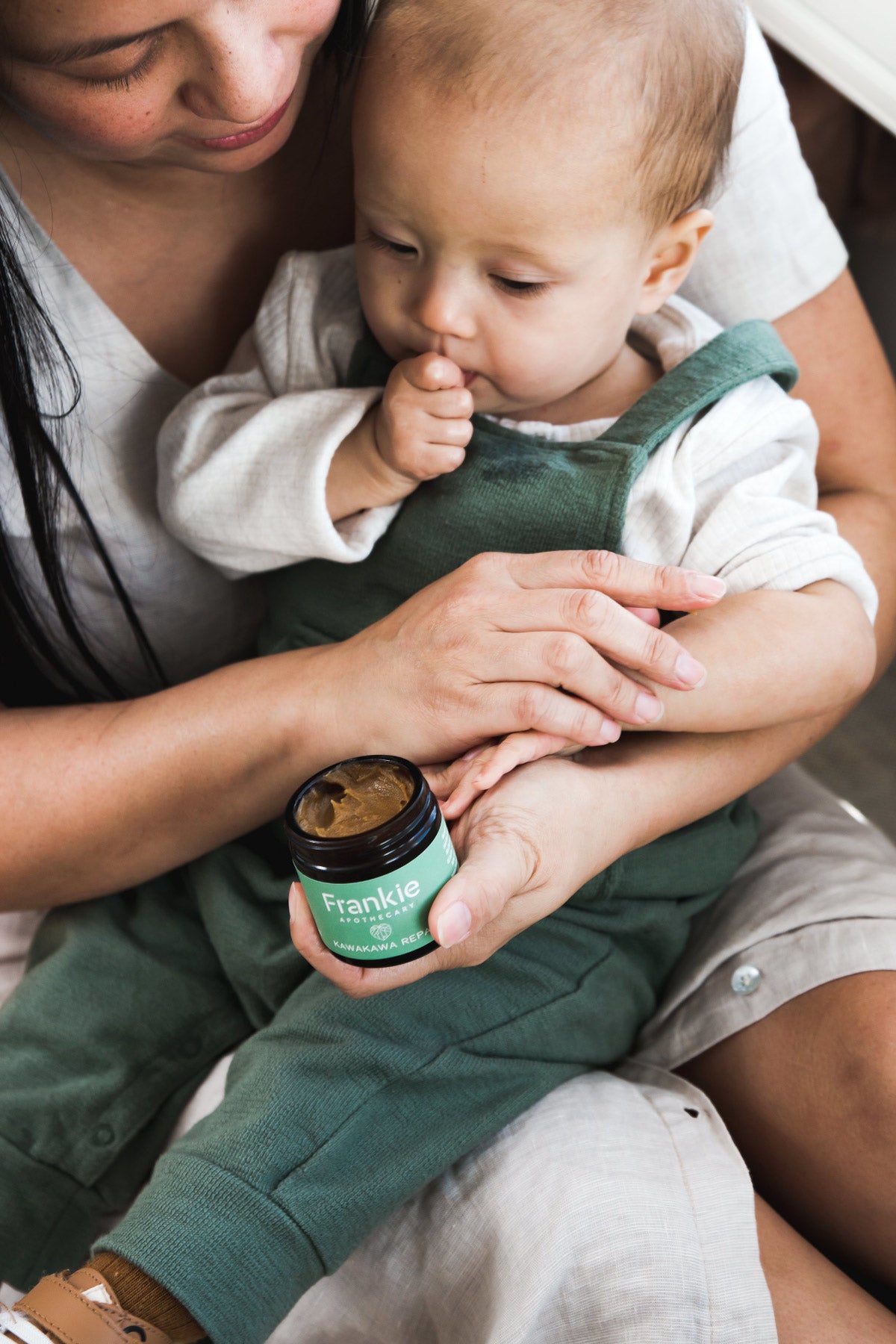 It began with Kawakawa Balm
Frankie Apothecary was created from a mother's love when founder, Michele, created our famous Kawakawa Balm to care for her daughter who suffered with eczema and very sensitive skin. The story was such a common one; itchy dry patches on her knees and back led to tears every night, as she would wake with blood on her sheets from scratching. 
After years of doctor visits, allergy tests, eliminating foods and trying every cream under the sun, Michele was desperate! Determined to bring her daughter some relief, she spent hundreds of hours researching what was working overseas - a process that finally led her back to her own heritage and to embrace the wisdom of Rongoā.
With the creation of Frankie's amazing Kawakawa Balm, her daughter's dry, itchy, irritated skin cleared within a week. Skin flare ups were then held at bay with regular applications of the Kawakawa Balm and regular Oat Bath Soaks.
Proud Supporters
To be eligible to display the EANZ logo products must be created or intended for use by people with eczema or sensitive skin conditions and meet the acceptance standards set by the EANZ.
The presence of the EANZ logo helps people recognize products that are suitable for care of eczema or sensitive skin, and make informed purchase decisions to help manage eczema and sensitive skin.
From Aotearoa to the world
The Frankie Apothecary business grew organically and before long, word spread throughout New Zealand, to Australia and beyond.  
Our wish is to see every Mum experience the same amazing results with their own children.
Georgina (Ngati Porou) and Matt x