Pure Natural Epsom Salts
Regular price

Sale price

Rs. 700.00
Simple returns, see below.
DESCRIPTION

Natural Epsom Salts are beneficial for the whole family and play an integral role in ridding the body of unwanted toxins. They're also an excellent addition to your sensitive skin or eczema-care routine as they're thought to support the skin's healing process and road to recovery.

Other well-known uses of a relaxing Epsom Salt bath include:

improving the quality of your sleep
supporting the skin's healing process - particularly good for dry itchy skin like eczema
improving muscle and nerve function
supplying magnesium
aiding serotonin production
DIRECTIONS FOR USE

Soak in a bath or footbath with 1/4-1 cup of Epsom Salts. Aim to soak 2-3 times a week.
SUITABLE FOR
INGREDIENTS

Natural Magnesium Sulphate.
BOTANICAL ACTIVES
SHIPPING & SIMPLE RETURNS

Free Shipping

Orders over $85 delivered free in NZ (Saturday delivery is additional), standard shipping is $6.50.

International orders

You can use the Shipping Estimator on the cart page, or view the rate before you complete checkout.

Refunds and returns

If you change your mind, simply return unopened, unused product for a full refund. In the very unlikely event of a negative reaction, get in touch to share your experience and discuss returning the product to us for a refund. If you have been using steroid cream, skin can be more sensitive and you will need to wean into use gradually. Need help? Get in touch for a chat.

Our Returns information is here.
Share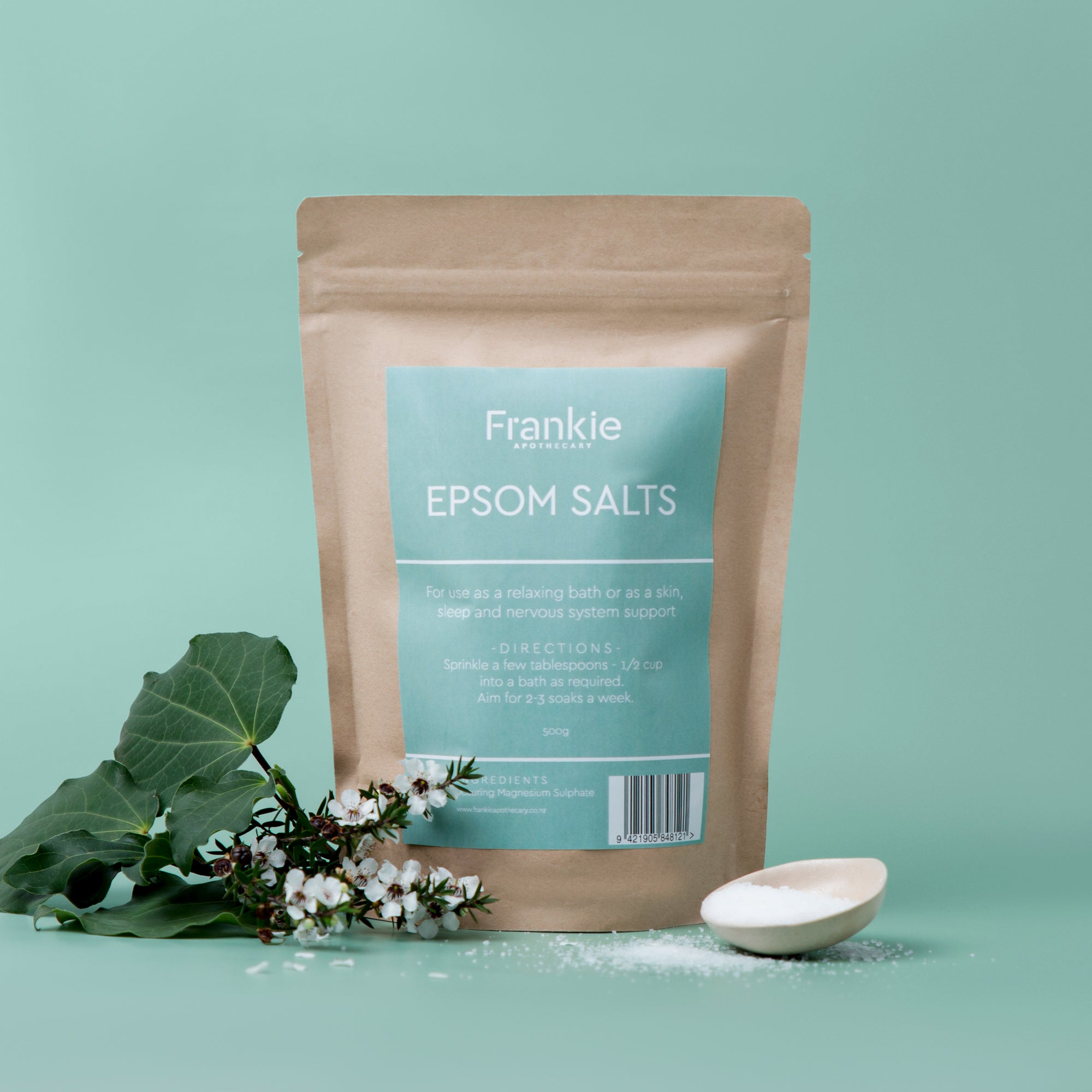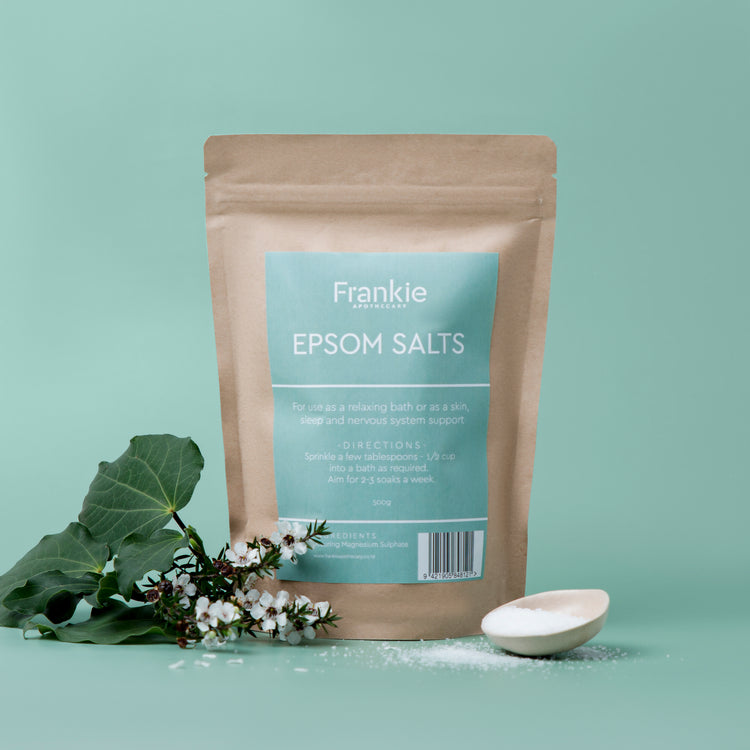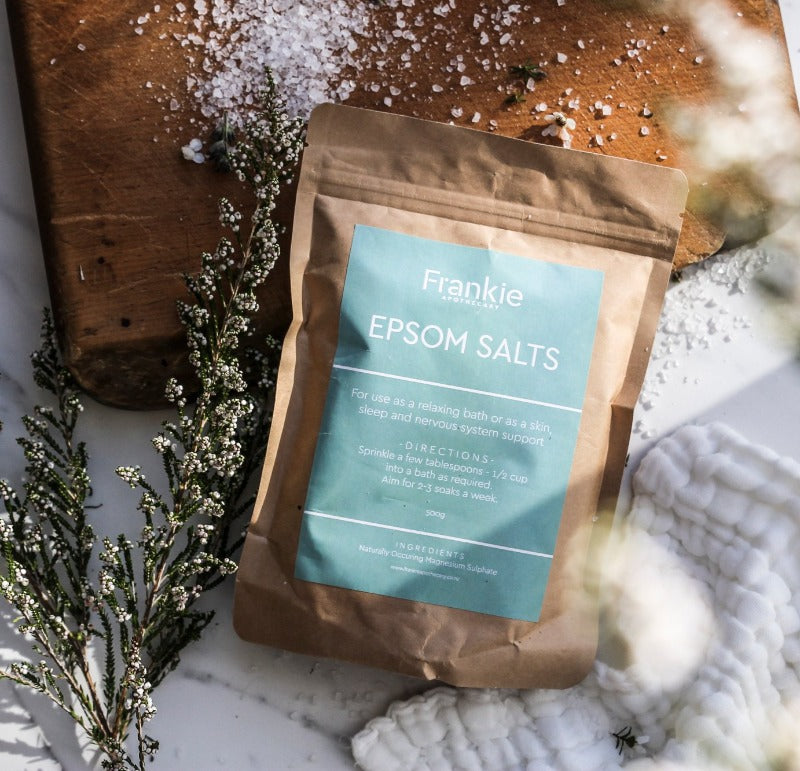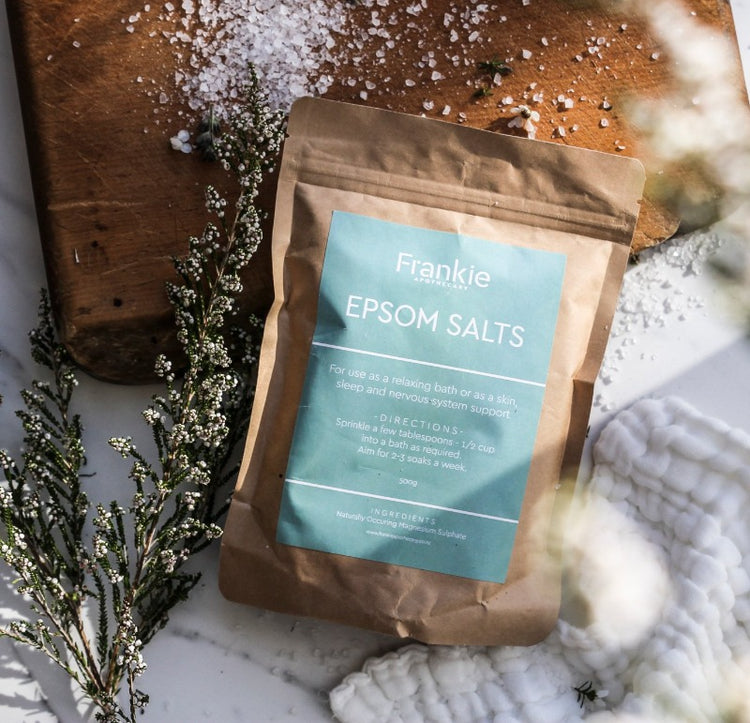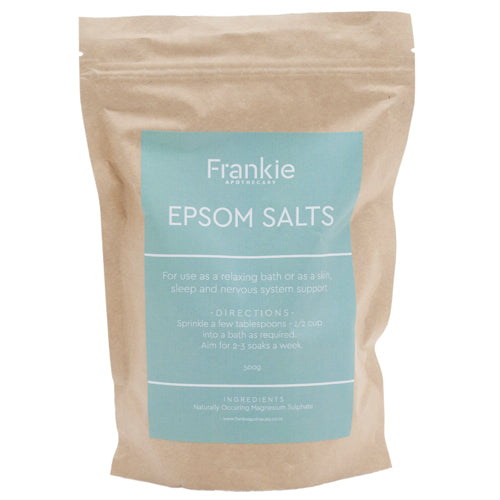 Your Questions Answered
Why does Kawakawa help skin prone to eczema, psoriasis & dermatitis?
The Kawakawa leaves and stems are packed full of natural botanical actives that have numerous medicinal and healing properties. Chemically, the Kawakawa leaves contain pain-blocker myrsticin, eugenol which is an antiseptic, and skin-rejuvenating antioxidant lignins. It is rich in iron, magnesium and vitamins. We preserve the effectiveness of all these natural botanical actives in our Kawakawa balm, and the smooth protective balm creates a physical layer that reduces skin irritation and allows the skin barrier to recover.
What properties does Kawakawa offer?

Kawakawa is one of the most important and widely used plants
in Rongoā Māori (traditional Māori herbal medicine) and has been used by Māori for centuries to treat various ailments. Kawakawa was chewed to manage toothache and drunk as a tea for digestive issues and to treat bladder and kidney issues.

Scientists agree - Kawakawa has amazing medicinal properties. Laboratory testing has revealed that Kawakawa contains:

Myristicin, a pain-blocking substance related to the antiseptic eugenol,

Lignins which are useful in cosmetic and topical skin treatments,

Antimicrobial and analgesic properties useful for reducing skin inflammation

Diayangambin which has anti-inflammatory and immuno-suppressant effects, which means it can help with anti-immune disorders like rheumatism and psoriasis,

Antidyspectic actives which can help control dyspepsia and indigestion, and

Antispasmotic properties which can ease cramping and muscle spasms.

This group of active ingredients assists with reducing the inflammation and irritation associated with dry/itchy skin conditions.
Can I use your eczema care products if I've used steroid creams?

Remember, if you're concerned about your own or your child's skin, we recommend talking to your medical professional.

Kawakawa Repair Balm is a completely natural nourishing moisturiser and many parents have used it with great effect, even after using over the counter creams and topicals.

From what many parents have told us, if steroids have been used, progress may be slower and it's best to start using the Kawakawa Repair Balm gradually.

We've talked to lots of families and here are some of the patterns they've observed when using Kawakawa Repair Balm:

Some have noticed that topical steroids can sometimes leave the skin sensitive until the withdrawal period from the steroids is over. This seems to be different for different people depending on how long the steroid products were used and how severe the condition.

However, generally if steroid products have been used they've told us it took a bit more time to to adjust to the new regime.

We suggest you apply a little of the balm each day and over time gradually increase the amount and time. Remember it is best to always patch test on the skin first and stop in the very unlikely event of a reaction.
Is Kawakawa Repair Balm safe to use while pregnant?

Kawakawa Repair balm is safe for use while pregnant and is also safe for use on babies. While Kawakawa products are safe to be used topically by pregnant women, be aware that it is not recommended that pregnant women ingest Kawakawa, for example not to take as a tea.
Can I use Kawakawa Repair on my newborn?

Kawakawa Repair Balm is suitable for the whole family, including your newborn.

It is a natural product and the beeswax used is cosmetic grade and is sterile.
Can I use Kawakawa Balm on broken skin?

If you have open areas of skin, it is important to check for signs of infection. If you are at all concerned, we recommend checking with your medical professional.

Classic signs of infection are pus or coloured discharge, heat, redness, strong odour or smell. If there is infection then consult your medical professional.

If the area is fine, dab with a dressing and apply the balm. Use a clean spoon or implement to remove the balm from the jar (preferably not hands) and to apply.
Is it safe to use Kawakawa Repair Balm around the eyes?

Yes, the Kawakawa Repair Balm is safe for using on eyelids.

We suggest to use just a little so that you don't get any in your eyes, not that it will harm them, but the oil-based balm may not be comfortable in the eyes.
When can I expect to see improvement with itchy skin?

The time to see improvement from using the Kawakawa Repair Balm will vary from person to person. Most people see improvement within a few days, and sometimes the skin starts to calm within minutes of applying.

If steroid based products have been used recently (within the last 6-10 months) it may take longer to see the impact of using the Kawakawa Repair Balm. See the question on using steroid products for further information.
How do I use the kawakawa balm, body oil and oat soak together?

The combination of Kawakawa Balm, Body Oil and Colloidal Oats is a great combination to treat persistent dry/itchy skin issues - check out our Eczema Saviour Bundle for extra value.

To use this combination:

Bathe with the Colloidal Oats – add two tablespoons to a bath, less if bathing babies in a tub, and soak for ten minutes.

Pat dry and apply the Kawakawa Balm within a three minutes to lock in the moisturising properties.

3. Body Oil to add a moisturising layer to the skin - apply Kawakawa Body Oil body oil to add a moisturising layer to the skin.
How soon can I expect my order?

We pack orders within one business day of receiving them and ship orders from Frankie HQ in Auckland every Monday to Friday.

Delivery estimates for New Zealand are:

Auckland wide is usually next day or 1-2 days from courier collection.

North & South Island - 1-2 days

Australia:

Standard postal service is 5-14 days provided there are no unexpected delays.

FedEx service - usally within 4-5 days.

For the rest of the world delivery can take 2-4 weeks.

We do our best to dispatch orders as quickly as possible however final delivery times may vary due from those above.

Keep in mind that covid 19 has caused severe disruption to courier networks and international postage. If your parcel is delayed please monitor the tracking for updates.
Can I get a refund if the Kawakawa Balm does not improve my skin?

We think the Kawakawa Repair Balm is a great product for treating dry/itchy skin issues, and so do many of our customers.

Many of our customers have given feedback that the balm has helped calm irritated skin and helped them and their children sleep through the night. Often they have tried many other products on the market and did not get the same result as with the Kawakawa Balm.

One situation when progress seems to be slower is if you've had to use steroid cream to manage eczema. Some customers have told us they've noticed steroid cream use seems to make the skin dependent on their use and more sensitive and irritable when new products are introduced, even gentle ones. In this case, we recommend a period of weaning into using the balm. e.g. start with one application a day and gradually increase, monitoring the skin for any reaction before increasing use. If you have concerns about your skin, remember to consult your medical professional.

If you have not used steroid creams in the last 10 months and have applied the balm in the recommended way - 3 times a day at regular intervals for several days to a week - and see no improvement, please return the balm to us for a refund of the balm cost (shipping is excluded) - you can email us at info@frankieapothecary.co.nz to sort this out.
Can I return my order if I change my mind?

If you change your mind, simply return unopened, unused product for a full refund, excluding shipping cost.