Bakuchiol Rejuvenate Serum
Regular price

Rs. 2,600.00

Regular price

Sale price

Rs. 2,600.00
DESCRIPTION

Cacay + 1% Bakuchiol (bah-koo-chi-ol)

A vitamin-rich, fast absorbing skin rejuvenator packed with high-potency botanical oils, this facial serum delivers a highly effective 1% of Bakuchiol. Bakuchiol is nature's potent skin revitaliser, and shown to be as effective as retinol at reducing lines and hyperpigmentation*, and we've teamed it with the beautiful Vitamin A rich Cacay Oil for double impact.

Our Rejuvenate Serum harnesses a host of highly effective plant-based oils, chosen for their anti-oxidant profile, nutrient concentration, and ability to soothe and support skin health, and boost cell rejuvenation.

This plant powered, vegan facial serum is perfect for skin that can be reactive to commercial serums and retinoids. Its lightly scented with a beautiful, calming 100% natural fragrance.

Curious to learn more about our botanical skincare super stars? We've curated a short explanation on each, explaining why it deserves to be included in this skin rejuvenating serum, and why it is suitable for sensitive skin.

Ultimate Facial Trio includes: Bakuchiol Rejuvenate Serum 30ml, Replenishing Facial Oil 30ml, Lip Calm 13ml
DIRECTIONS FOR USE

Apply 1-2 pumps to freshly cleansed skin morning and evening. Apply as a stand- alone moisturiser or serum or pair with Replenishing Kakadu-C Facial Oil for additional moisture support and anti-aging benefits.
SUITABLE FOR

Suitable for all skin types, particularly sensitive, ageing or acne-prone. Vegan friendly.
INGREDIENTS

Organic Caryodendron Orinocense (Cacay) Seed Oil, Squalene (Olive), Organic Simmondsia Chinensis (Jojoba) Seed Oil, Organic Argania Spinosa (Argan) Kernel Oil, Organic Rosa Canina (Rosehip) Fruit Oil, Cannabis Sativa (Hemp) Seed Oil, Euterpe Oleracea (Acai) Fruit Oil, Bakuchiol, Vitamin E (from sunflower), 100% natural fragrance. Benzyl Benzoate**, Benzyl Salicylate**, Limonene**, Linalool**.

**Components of essential oil.
BOTANICAL ACTIVES

The beauty of Bakuchiol is its ability to gently rejuvenate skin over a 12 week period without the irritation and redness common with retinol. Long used in Ayurvedic and traditional Chinese medicine, Bakuchiol is the potent compound extracted from the seed oil of the flowering Babchi herb. We love it because it's gentle and suitable for sensitive skin, giving those with problem skin the opportunity to enjoy collagen boosting benefits previously only available with retinol use.

Cacay Oil is a Vitamin A superstar in its own right, supporting Bakuchiol by delivering three times the Vitamin A levels of Rosehip and 50% more Vitamin C than Argan oil. It is rich in linoleic acid which plays a key role in supporting and strengthening the skin's barrier function. Cacay provides long lasting hydration by preventing the hydrolipidic outer layer of our skin from drying out, protecting that essential moisture barrier. With anti-inflammatory properties, Cacay absorbs quickly, brightens skin tone and may also lighten hyperpigmentation with consistent use. Excellent for reducing scars and healing blemishes.

Hemp Seed Oil is soothing and restorative with a huge array of phytonutrients. It's rich fatty acids linoleic acid, y-linoleic acid and a-lineolic that help boost the skin's ability to retain moisture. Hemp also offers anti-inflammatory and anti-microbial properties to support inflammatory conditions such as eczema, dermatitis and psoriasis.

Olive Squalene Squalene is the skin's main lipid, a built-in moisturiser, anti-inflammatory and antioxidant. Over time as natural levels decrease with age, Olive Squalene acts as a natural lubricant and moisture barrier to help prevent dry skin and keep it supple by preventing water loss.

Super soothing and gentle, Jojoba is anti-inflammatory, anti microbial and can aid in acne prevention. Jojoba Oil has many similarities to the sebum naturally produced by the skin, which allows it to penetrate at a deeper level. Deeply moisturising and easily absorbed, Jojoba is naturally high in Vitamins A, D and E and nutrients to help nourish glowing skin. This gentle oil balances oily skin, soothes sensitive skin, and hydrates dry and aging skin.

Argan Oil is rich in Vitamin E, omega fatty acids, linoleic acids for soothing skin nourishment and boasting an amazing host of antioxidants and anti-inflammatory properties, Argan Oil is a well known anti-aging active. Argan oil also helps to regulate sebum production which helps prevent breakouts, and its high concentration of Vitamin E can help fade scars and smooth skin texture.

Rosehip is a vitamin rich all-rounder delivering high levels of Vitamin A and C, antioxidants with anti-aging properties, working to brighten and even skin tone. With anti-inflammatory properties, Rosehip Oil is gently astringent so tightens skin and pores, and contains moisturising nourishing fatty acids and vitamins for a deeply nourishing effect on ageing and dehydrated skin. It's useful for dry, damaged and irritated skin and helps to visibly reduce the appearance of wrinkles and uneven skin tone. Rosehip oil can also lighten or fade scars and blemishes.

Acai Berry Oil is an anti-aging, anti-inflammatory and anti-acne super-active with high antioxidant levels, protective and moisturising fatty acids, and vital minerals and vitamins. Acai Berry Oil has is rich in powerful antioxidants and anti-inflammatory properties to help soothe skin and limit moisture loss while its impressive combination of Omega 3, 6 and 9 make it deeply nourishing for dry skin and especially dry, irritated skin conditions like eczema and psoriasis.

Antioxidant rich Vitamin E fights free radicals and supports skin elasticity - it provides exceptional benefits and also acts as our natural preservative.

SHIPPING & SIMPLE RETURNS

Free Shipping

Orders over $85 delivered free in NZ, standard shipping is $6.50.

International orders

You can use the Shipping Estimator on the cart page, or view the rate before you complete checkout.

Refunds and returns

If you change your mind, simply return unopened, unused product for a full refund. In the very unlikely event of a negative reaction, get in touch to share your experience and discuss returning the product to us for a refund. If you have been using steroid cream, skin can be more sensitive and you will need to wean into use gradually. Need help? Get in touch for a chat.

Our Returns information is here.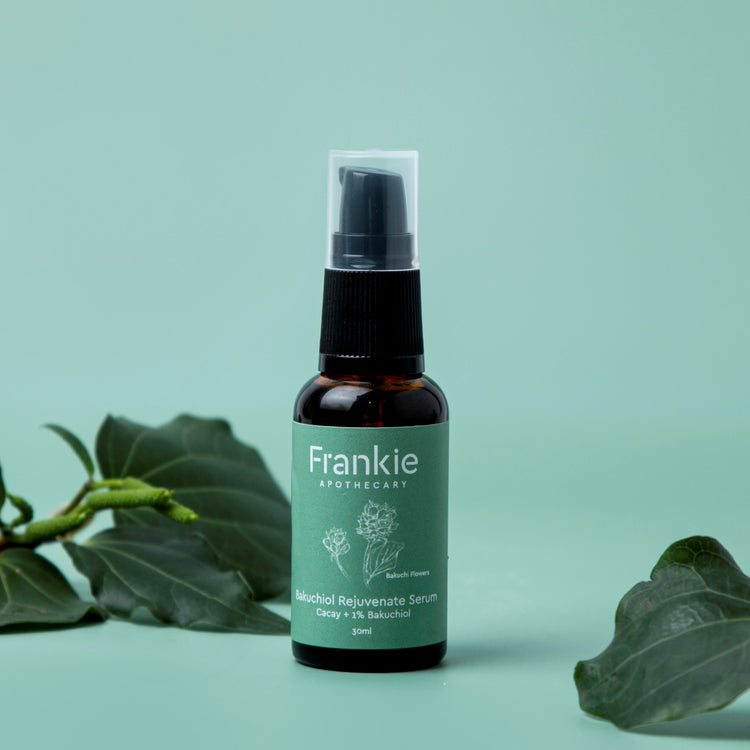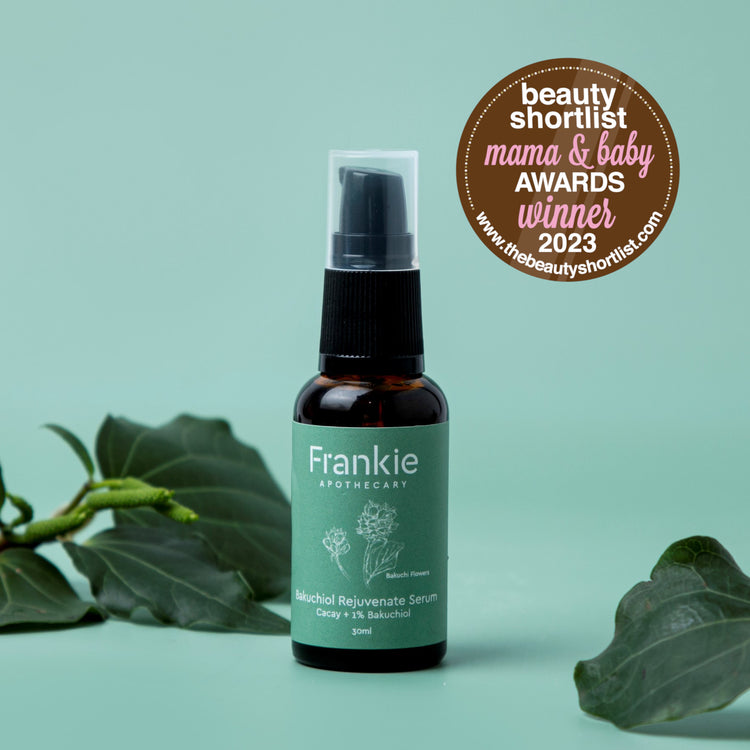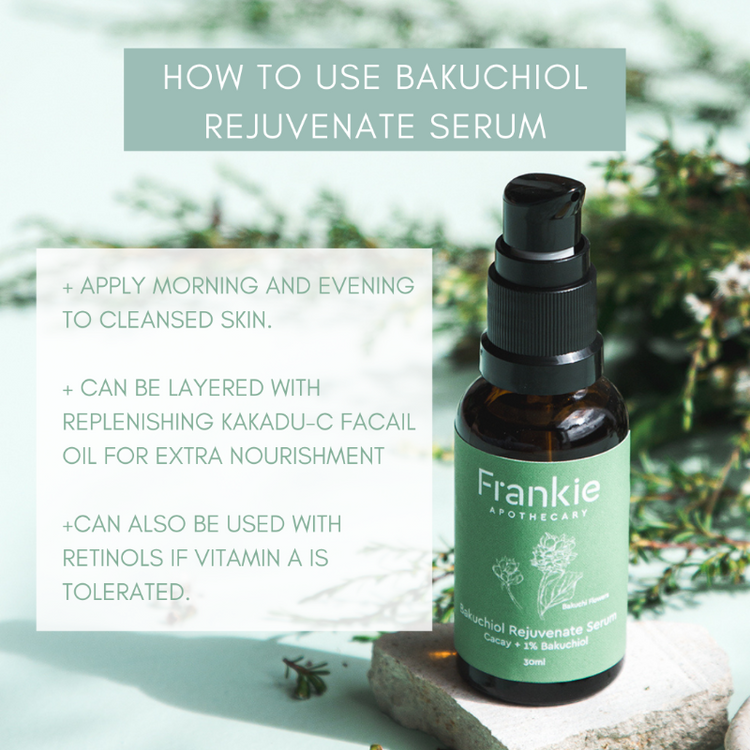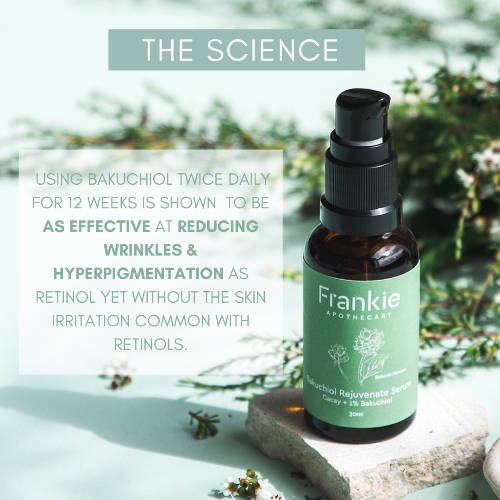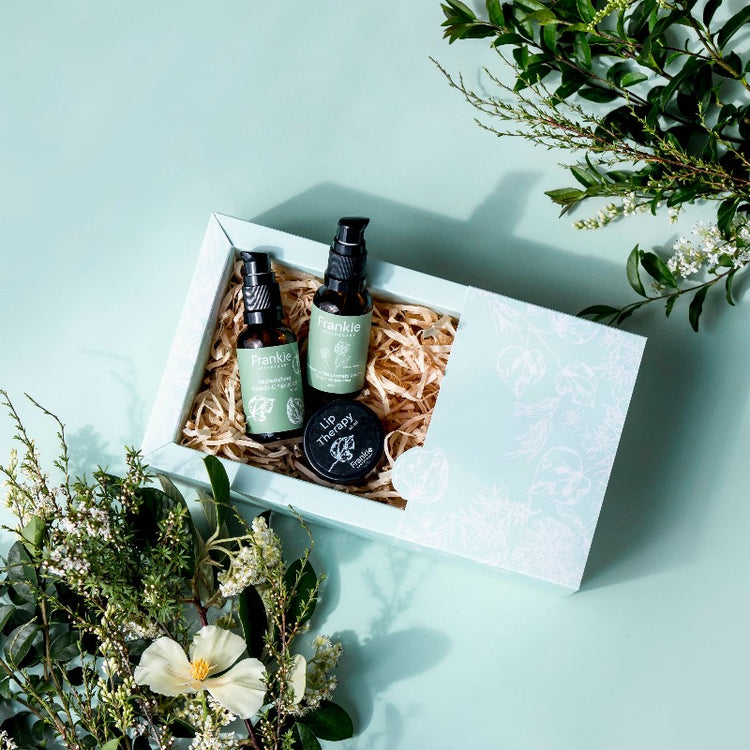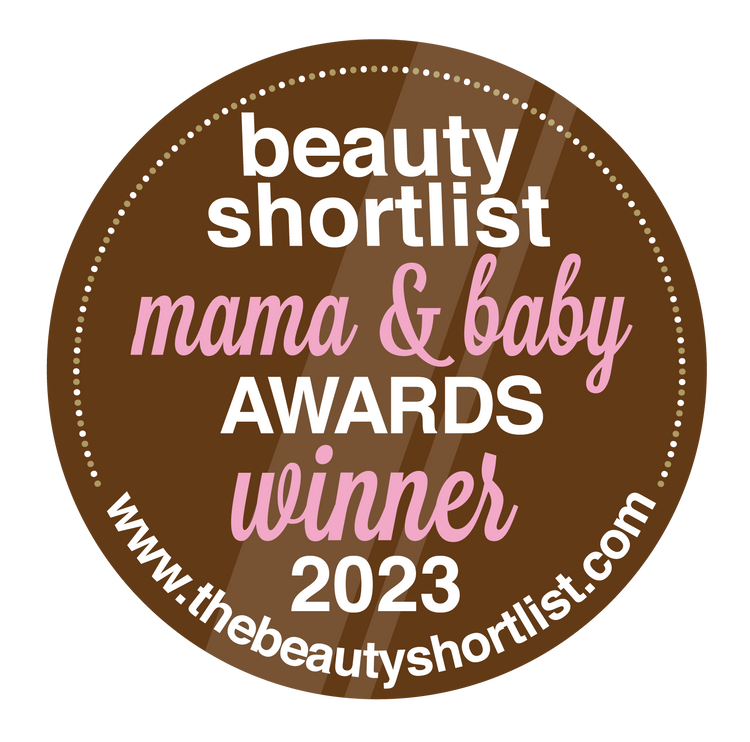 MADE IN NEW ZEALAND
CRUELTY FREE
LOW ECO-IMPACT
GENTLE ON SKIN
Your Questions Answered
Are your facial products suitable for all skin types?

Yes, they are 100% natural
and formulated to be suitable for all skin types, including those with sensitive skin.

Whenever you add a new product into your skincare routine we do recommend that you always patch test first before use.

Our Bakuchiol Rejuvenate
Serum includes 1% of a high-potency Bakuchiol extract.

Scientific studies have shown .5% Bakuchiol extract in a formulation is as effective as .5% retinol at
improving hyperpigmentation and fine lines when used daily for 12 weeks, all without the skin irritation common with retinol. Keep in mind bakuchiol won't
be comparable to stronger retinoids such as retinaldehyde or retinoic acid.

Bakuchiol is a gentle
alternative to retinol, but it is a potent botanical active so we recommend patch testing first and building up use if your skin is sensitive. Please message us if you'd like more specific recommendations.
Is your beauty range safe for senstive skin?

All our natural skin care range was developed with sensitive skin in mind.

In fact many of our botanical actives actively reduce inflammation
and skin irritation.
Do you have products suitable for blemish-prone skin?

Yes we do! Our Kawakawa Cleansing Bar with Chlorophyll has had great results as a gentle, balancing cleanser for those suffering with acne due to the anti-bacterial properties of the Kawakawa Chlorophyll extract.

We recommend pairing this
with Bakuchiol Rejuvenate Serum which includes 1% bakuchiol extract known to exhibit anti-bacterial and anti-inflammatory properties and balance sebum (oil) production.

One study* found that a formulation with 1% bakuchiol extract applied twice daily reduced acne by 57% after six weeks.

*Bakuchiol in the
Management of Acne-affected Skin. (Chaudhuri R, Marchio F., 2011)
Are your natural skin care products effective?

Absolutely. Nothing but good goes into our natural skin care and all our beauty products are free from nasty chemicals, skin irritants or synthetic fillers.
Are your hair care bars safe for children too?

Absolutely. Our hair care bars are designed with all the family in mind.
How should I store my hair care bars?

When not in use, store your bars away from water - e.g. outside the shower - on a well-draining soap dish to make it last as long as possible. A saucer with pebbles is a nice DIY soap dish idea.
How soon can I expect my order?

We pack orders within one business day of receiving them and ship orders from Frankie HQ in Auckland every Monday to Friday.

Delivery estimates - New Zealand:

Delivery across Auckland - usually next day or 1-2 days from courier collection.

North & South Island - 1-2 days

Australia:

Standard postal service is 5-14 days provided there are no unexpected delays.

FedEx service - usally within 4-5 days.

Rest of world:

2-4 weeks.

We do our best to dispatch orders as quickly as possible however final delivery times may vary due from those above.

Keep in mind that covid 19 has caused severe disruption to courier networks
and international postage. If your parcel is delayed please monitor the
tracking for updates.
Can I return my order if I change my mind?

If you change your mind, simply return unopened, unused product for a full refund.