Our focus on Te Ao Mārama
Kaitiakitanga - Hangarua.
Our Reduce, Recycle & Re-use Initiatives
There's a beautiful saying; "Do what you can, with what you have, where you are".
At Frankie Apothecary, Kaitiakitanga (guardianship) is one of our core values and we are passionate about reducing waste in the ways that we can. This means treating Papatūānuku with the respect she deserves, doing our best to live lightly on the earth, reducing the plastic we use, and sharing ways you can return product packaging to us to recycle or reuse.  
Recycling & Re-use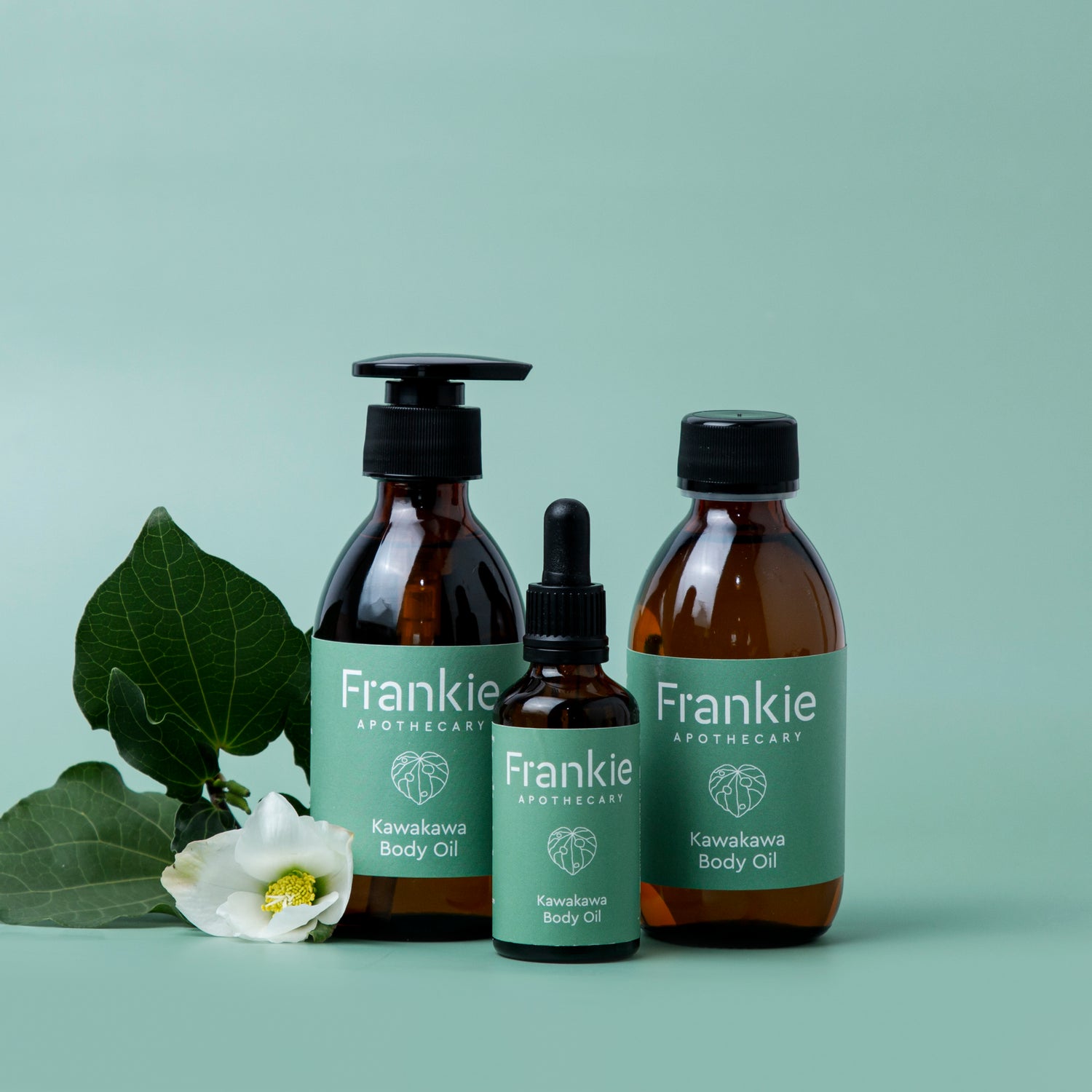 Body Oil Bottles
Buy a refill instead of a new pump bottle
You can buy a Kawakawa Body Oil 200ml refill with a normal cap, and simply refill and reuse your existing bottle and pump. This helps reduce the number of pump-tops and reduces the plastic we use.
Send your bottle back for a refill
You can send your existing bottle and pump to us and get a refill for $36 instead of the usual $45. Email us at info@frankieapothecary.co.nz  to let us know it's on its way and we'll let you know how to arrange payment.  
Let us recycle the pump for you
We get it. Oil pumps are fiddly to recycle. You'll need to take them apart and use a pipe cleaner with detergent to remove any oil residue before putting the separate parts into recycling. It's a fiddly job, so if it's not for you, just return them to us at the address below.
Glass Jars
Return them
Send four Frankie glass jars back to us and we'll give you a $5 credit to use on our website. Pack them by carefully wrap/rolling the jars in two layers of cardboard (use an old box) so they arrive safely. Then email info@frankieapothecary.co.nz to let us know they're on their way, and send with your name and email to:
Frankie Apothecary Recycling Programme - 61 Selwyn Avenue, Mission Bay, Auckland 1071
Recycle them
When recycling glass, wash thoroughly to remove all residue (the dishwasher is great for this) then pop into general recycling.
Re-use them
Upcycle our glass jars and re-use as cute storage containers, planters or candle holders!
Reduce - that's our job!
Wherever possible, we use recyclable packaging and where we can't, we are always looking for more sustainable options. While glass is more fragile than plastic, more costly to use and heavier to freight, it's non-toxic to the environment and can be infinitely recycled - which is why glass is our go-to packaging of choice for our Kawakawa Repair, Sunscreen and Breathe Easy Balms and body oils, though they still need plastic lids and pumps. 
We use plastic free plant-based courier bags for all Frankie Apothecary deliveries - or cardboard boxes with fully recyclable paper tape, for bigger orders!
Our bath soaks are packaged in home compostable pouches with a protective biodegradable lining.
We have moved to paper and stone-paper labels. This reduces our plastic use, and makes Frankie glass easier to recycle as you won't have to peel off the label.
We are swapping plastic jar lids for aluminium lids for our Kawakawa Repair Balm and our new sunscreen (due October 2022) will be in aluminium containers.
Last but not least, Frankie Apothecary products are made right here in Auckland so we can absolutely minimise carbon miles, before distribution to you.