Customers say
My daughter has suffered with her eczema for years, we've seen many specialists and nothing has ever worked, she flares up because of her allergies. Her skin is much better after just one week using the Kawakawa balm! It was a whole lot worse before we started using it. I am so happy with this product I've already ordered our next lot so we don't have to go a day without it!

Amber

It has been a little over 2 weeks since I started using Kawakawa balm, and I am blown away by how effective it has been in dealing with my psoriasis inflammation. I can see normal skin peaking through as the affected area is healing. Did I mention the awesome service? Well, it's awesome. In fact I have now set up a subscription so I don't ever have to worry about running out of this wonderful product. I am keen to try more products. Nga mihi nui.

Heather

My 3 month old son has severe eczema and asked our GP for help. They prescribed him with steriodal creams which worked then would come back again when stopped, he was fussy most of the time. I started weaning off these steroidal creams as i was afraid that it was too strong for him. I slowly tried Frankie balm on my baby and it worked wonders on his skin! Now he's a happy and bubbly baby!

Romana
FAQs
What properties does Kawakawa have?

Kawakawa is one of the most important and widely used plants
in Rongoā Māori (traditional Māori herbal medicine) and has been used by Māori for centuries to treat various ailments. Kawakawa was chewed to manage toothache and drunk as a tea for digestive issues and to treat bladder and kidney issues.

Scientists agree - Kawakawa has amazing medicinal properties. Laboratory testing has revealed that Kawakawa contains:

Myristicin, a pain-blocking substance related to the antiseptic eugenol,

Lignins which are useful in cosmetic and topical skin treatments,

Antimicrobial and analgesic properties useful for reducing skin inflammation

Diayangambin which has anti-inflammatory and immuno-suppressant effects, which means it can help with anti-immune disorders like rheumatism and psoriasis,

Antidyspectic actives which can help control dyspepsia and indigestion, and

Antispasmotic properties which can ease cramping and muscle spasms.

This group of active ingredients assists with reducing the inflammation and irritation associated with dry/itchy skin conditions.
How do I use the kawakawa balm, body oil and oat soak together?

The combination of Kawakawa Balm, Body Oil and Colloidal Oats is a great combination to treat persistent dry/itchy skin issues - check out our Eczema Saviour Bundle for extra value.

To use this combination:

Bathe with the Colloidal Oats – add two tablespoons to a bath, less if bathing babies in a tub, and soak for ten minutes.

Pat dry and apply the Kawakawa Balm within a three minutes to lock in the moisturising properties.

3. Body Oil to add a moisturising layer to the skin - apply Kawakawa Body Oil body oil to add a moisturising layer to the skin.
When can I expect to see itchy skin improve?

The time to see improvement from using the Kawakawa Repair Balm will vary from person to person - we are all different.

Most people see improvement within a few days, and sometimes the skin starts to calm within minutes of applying.

If steroid based products have been used recently (within the last 6-10 months) it may take longer to see the impact of using the Kawakawa Repair Balm. See the question on using steroid products for further information.
What if I have been using steriods for my eczema?

Yes you can, but it is likely your skin will need some time to adjust to the Kawakawa Repair Balm.

Topical steroids can leave the skin very sensitive to pretty much anything until the withdrawal period from the steroids is over. This can be different for different people depending on how long the steroid products were used and how severe the condition.

However, generally if steroid products have been used it can take a while longer to see effect from the balm and the skin is likely to need some time to adjust to the balm. We suggest you apply a little of the balm each day and over time gradually increase the amount and the
frequency. Remember it is best to always patch test on the skin first.
Can I use Kawakawa Repair Balm on my new baby's skin?

Yes, it is completely safe to use Kawakawa Repair Balm on your newborn.

When treating issues on babies such as dribble rash, babies usually end up ingesting a little of the balm and this is perfectly safe. It is a natural product and the beeswax used is cosmetic grade and is sterile.
Can I use Kawakawa Balm on broken skin?

If you have open areas of skin, it is important to check for signs of infection – pus or coloured discharge, heat, redness, strong odour or smell. If there is infection then check with your medical professional first to treat the infection.

Provided there is no infection, dab any discharge with a dressing or bandage and apply the balm. In these cases it is important to use a clean spoon to remove the balm from the jar (preferably not hands) and to apply with a sterile bandage or implement, i.e. try to minimise the chance of the broken skin becoming infected.
Is Kawakawa Balm safe around the eyes?

Yes, the Kawakawa Repair Balm is perfectly safe for using on eyelids.

We suggest to use just a little so that you don't get any in your eyes, not that it will harm them, but the oil-based balm may not be comfortable in the eyes.
Is Kawakawa safe for pregnant women?

Kawakawa Repair Balm is completely safe for use while pregnant and is also safe for use on babies.

While Kawakawa products are safe to be used topically during pregnancy, be aware that it is not safe for pregnant women to ingest Kawakawa, for example not to drink it as a tea.
How soon can I expect my order?

We pack orders within one business day of receiving them and ship orders from Frankie HQ in Auckland every Monday to Friday.

Delivery estimates for New Zealand are:

Auckland wide is usually next day or 1-2 days from courier collection.

North & South Island - 1-2 days

Australia:

Standard postal service is 5-14 days provided there are no unexpected delays.

FedEx service - usally within 4-5 days.

For the rest of the world delivery can take 2-4 weeks.

We do our best to dispatch orders as quickly as possible however final delivery times may vary due from those above.

Keep in mind that covid 19 has caused severe disruption to courier networks and international postage. If your parcel is delayed please monitor the tracking for updates.
We promise
Swift dispatch

All orders leave us within 24hrs Mon-Fri.
Standard NZ shipping is just $6.50

Kind on Sensitive Skin

Our range is created to be gentle and protect delicate or eczema prone skin.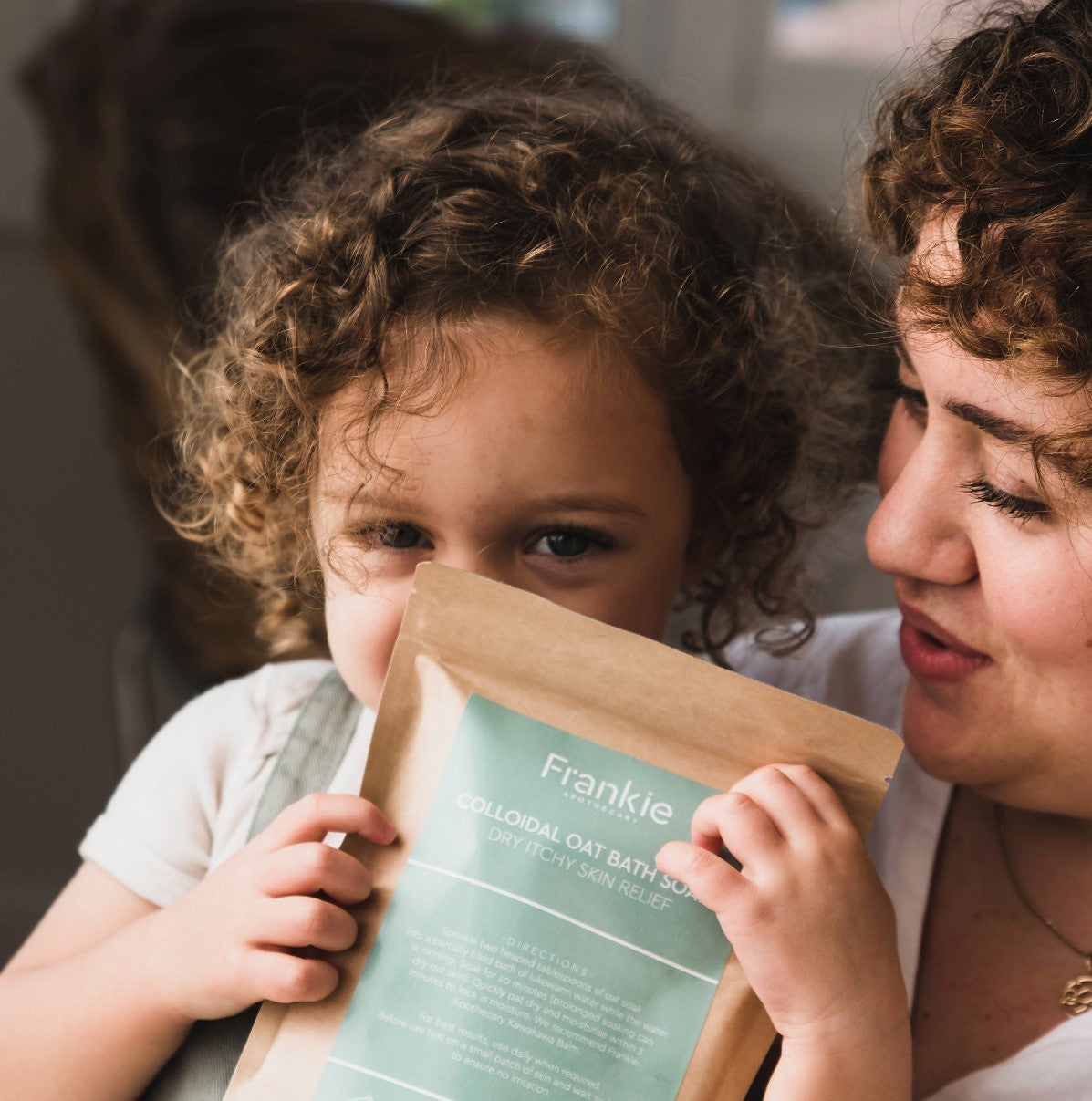 Join the Frankie Family to get rewards
To get the latest news, exclusive deals and discounts, sign up for our newsletter and join the Frankie Family.
You'll get 100 points (that's a $5 discount code) just for signing up! 
Join now
Page title
NZ Native Kawakawa has been used medicinally for centuries 
The Kawakawa shrub (Macropiper excelsum) is one of the most distinctive native New Zealand plants with its aromatic heart-shaped leaves. It is one of the most important and widely used plants in Rongoā Māori (traditional Māori herbal medicine), and is still widely used as a topical treatment for eczema and dry, irritated skin today.
See the super stars of our eczema care range here.
Is Kawakawa's healing power natural magic, scientific fact or traditional rongoá?
The wonderful healing properties of native Kawakawa have been used in traditional rongoá remedies for centuries, as it was obvious to Máori that Kawakawa contained very special healing actives.
Kawakawa has been used to care for eczema and sensitive, dry and irritated skin by Máori healers for generation upon generation and there is no doubt that for those suffering from eczema, psoriasis, rashes or dermatitis, Kawakawa Balm can soothe or resolve the symptoms, and provide lasting relief.
As well as being an effective skin remedy, Kawakawa leaves can be chewed or made into a tea infusion to treat gastrointestinal stomach ailments, high cholesterol bladder problems, to balance blood sugar and blood pressure, and reduce the pain of tooth aches.
In rongoá, Kawakawa was also used for bronchitis, rheumatism, bad bruising, burns, stings and insect bites, sunburn and dry, generally irritated skin. 
The distinctive leaves of Kawakawa (Macropier excelsum) meant it was easily recognised as a relative of the famous Pacific Kava plant (Piper methysticum) by Máori when they arrived in New Zealand; and as you would expect, Kawakawa shares some of the medicinal properties of Kava - although not the mild narcotic effect!
Scientists agree - Kawakawa has amazing medicinal properties
With laboratory testing scientists have demonstrated that Kawakawa has:
Myristicin, a pain-blocking substance related to the antiseptic eugenol
"Myristicin is an anticholinergic agent, meaning it blocks certain nerve impulses. Anticholinergic drugs are used to treat a variety of medical conditions including bronchitis and gastrointestinal disorders."
Lignins which are useful in cosmetic and topical skin treatments
"Kawakawa leaves also contain a series of lignans which act as powerful antioxidants in the presence of oil (such as Kawakawa oil), which act as free radical scavengers, and boost skin cell health dramatically."
Antimicrobial and analgesic properties useful for reducing inflammation caused by skin conditions such as psoriasis, eczema and rashes
"Kawakawa extract has been shown to have anti-inflammatory activity."

 
Diayangambin which has anti-inflammatory and immuno-suppressant effects, which means it can help with anti-immune disorders like rheumatism and psoriasis.


 Antidyspectic actives which can help control dyspepsia and indigestion


Antispasmotic properties which can ease cramping and muscle spasms
Why does our Kawakawa Balm help eczema, psoriasis & dermatitis?
The Kawakawa leaves and stems are packed full of chemical actives that have numerous medicinal and healing properties. Chemically, Kawakawa contains pain-blocker myrsticin, eugenol which is an antiseptic, and antioxidant lignins. It is rich in iron, magnesium and vitamins. We preserve the effectiveness of all these natural chemical actives in our Kawakawa extract. To ensure they are not lost quickly in our products like Frankie Kawakawa Balm, an additional antioxidant must be added. We use a rich natural Vitamin E antioxidant as a natural preservative in our Kawakawa Balm.
Read on to find out why these incredible natural Kawakawa actives can help repair eczema-prone skin.
How does Frankie Kawakawa Balm work to repair eczema damaged skin?
Eczema is an inflammatory response within the body to some internal or external trigger. This is why finding out what's triggering your Eczema flares is so important - see the Eczema Help Information below. However this can take some time and it's crucial to manage your Eczema before it gets out of hand and begins to affect your everyday life.
Once an inflammatory response is triggered, the body reacts by releasing a huge amount of moisture from the skin, which leads to the shredding of the outer skin layers, exposing the inner layers and altering the pH of the skin. This is what causes eczema damaged skin to become itchy, inflamed and raw.
Frankie Kawakawa Repair Balm is an intensive natural moisturiser containing zero water. This means our Kawakawa Balm is strong enough to create a long lasting barrier over the skin, trapping in the moisture that is trying to seep from the skin. This also allows the healing Kawakawa Repair Balm actives enough time to do their job in repairing the itchy, inflamed skin.
You may have tried many eczema creams and seen little difference. This is because the water content in most eczema creams means they are just not strong enough to create a lasting barrier on the skin - and the synthetic chemicals required to preserve conventional eczema creams are usually Eczema triggers in themselves.
We recommend applying Frankie Kawakawa Balm 2-3 times a day to very eczema inflamed skin, and then once a day to help prevent future flare ups of eczema irritation.  Always consult your Health Care Professional.
There's more to native Kawakawa than meets the eye
Traditionally in Aotearoa, Kawakawa plays an important role in the spiritual and physical world of Māori, following the life cycle from conception, birth, life and death.
Kawakawa wreaths are worn as a sign of mourning, and used in the powhiri as tangata whenua welcome the manuhiri onto the marae. To conceive, a woman would place a sprig of Kawakawa under her bed before intercourse as a good luck charm. It is used in birth and name ceremonies, to remove tapu at the opening of a meeting house and as a blessing of food and war and a symbol of mourning.
As a key healing plant, Kawakawa was heavily employed in the ancient lore of Rongoā Māori, the traditional Māori healing system where ailments are treated in a holistic manner which encompasses the use of herbs with healing in the mental and spiritual worlds. Aspects of rongoā can be explained as taha wairua (spiritual), taha hinengaro (thoughts and feelings), taha tinana (physical), and taha whanau (family).
In essence rongoā endorses a holistic embrace of all aspects of wellbeing - and Kawakawa plays its part in this healing methodology so beautifully. 
We wild-harvest our organic Kawakawa for our all natural remedies using traditional practises - harvesting certain leaves at certain times of the moon cycle, with karakia; as well as replacing used leaves back into the forest, and whānau (family) are involved in the harvesting process and planting new Kawakawa shrubs to ensure a vigorous and healthy forest.
Kawakawa and many of the other medicinal plants used in the Frankie range are grown sustainably on our Mangawhai, Northland New Zealand farm. Our Kawakawa is a mixture of wild, regenerative and organically grown from seed.  
Explore our range of completely natural, NZ made Kawakawa remedies.
Eczema causes - How to help heal eczema, naturally
If you or someone in your family is struggling through Eczema at the moment, we hope you find this information on the causes of eczema and eczema treatments useful.
We have gathered together our most helpful tips for Eczema relief to share with you, and we hope you find this eczema information useful in your eczema journey. 
1. Please always consult your preferred health professional first and foremost. Visit your Health professional, GP or Naturopath to assess your Eczema. They can help eliminate any infection and arrange for allergy testing.
2. Undertake a food elimination diet to eliminate the presence of a food allergy which could be causing your eczema. We have shared an easy to follow food elimination diet on our blog to help you identify what any food-based causes of your eczema are.
3. Begin applying Frankie Kawakawa Balm to help your Eczema up to 3 times a day. Our natural Kawakawa Balm is designed to soothe itchy inflamed skin and also create a strong barrier against moisture loss and external allergens - this is a crucial step in ensuring your Eczema does not worsen.
4. Try to eliminate all synthetics from the home - washing powders and cleaners, soaps and body washes and shampoos and synthetic fabrics in clothing and bedding. We have shared information about eczema triggers in clothing here.
5. Eliminate all dust and mould in the home, and ventilate your home everyday. Here is an article on eczema help that addresses environmental eczema triggers.
6. Add Frankie Colloidal Oat Soak to the bath every night to help ensure skin is protected at night and itchy free. Always follow with Frankie Kawakawa Repair Balm.
7. Introduce a good probiotic to your diet either in pill, liquid form or by eating a diet rich in pro biotics (yoghurt, kefir, bone broth, fermented foods).
8. Be ready for the seasonal changes that can provoke eczema flare ups. We have written a guide for Eczema in Winter and Eczema in Summer.
If you have any specific questions or would like further support in your Eczema journey, feel free to email us and our team of Naturopaths can point you in the right direction.